Slightly more than a year ago, the world as we know it changed. It has been a year of loss for way too many people and a year of turmoil and stress for us all. Our customers have been amazingly supportive and patient while we work thru this new maze. We can't tell you how much we appreciate it! With the progress towards vaccination, we now have reason to be optimistic. We wanted to take this opportunity to update you on where travel seems to be going and what we can expect for the remainder of the year. While the past year has taught us the challenges of trying to predict the future, some things seem pretty certain:
Covid Testing and mask wearing is here to stay for the near future. Yes, if you want to travel be prepared to have repetitive nasal swabs and wear a face mask. Some countries are gradually opening borders to those with a negative test between 48-96 

hrs prior to arriving in their country. Most of these countries are still requiring a negative test even for the vaccinated as the ability for vaccinated people to be carriers for Covid is still unknown. Remember, most of the places we travel to do not have the most robust health care system so any outbreak is a big deal. We need to do this to protect them even if we have been vaccinated.

Covid Vaccine Passports will be a reality. While the EU, Australia and New Zealand will probably lead the way, it is likely many countries will require proof of a Covid vaccination to enter their country without needing to quarantine. Countries with health care systems that could easily be overwhelmed are particularly interested in this mitigation strategy. Iceland and Seychelles are two top destinations that have already started doing that. Others such as Ecuador and the Galapagos Islands are allowing you to enter with a negative test or proof of vaccination and are moving to the vaccination requirement as vaccines become more available. This would not be unprecedented as vaccinations such as yellow fever or malaria are required for many tropical countries. If you want to continue to travel off the beaten path, get vaccinated as soon as you are able!
Travel insurance becomes even more important. Many travel insurance providers were overwhelmed with claims during the early part of the pandemic. And with no precedence for this circumstance, many of them invoked the "Act of God" clause to avoid paying out claims. However, the good companies have regrouped and are now offering travel insurance that covers many Covid related reasons for cancellation. For example,

DAN trip and annual travel insurance

plans provide coverage if you, your host at your destination, a travel companion or a family member test positive for COVID-19. They also now offer Cancel for Any Reason coverage. That type of coverage will even cover cancellation due to border restrictions, or you just plain changed your mind.
Flexibility is the key for travelers, expedition companies like Blue Green, destinations and airlines. While everyone in the travel industry is looking forward to actually making a living in the future, there is no doubt that it will take time to regain the confidence of travelers. And travelers will need to understand that plans will be more dynamic than usual for some time still. That means being creative and understanding when "stuff" happens. We are working with vendors who understand we are dealing with an unprecedented situation. We want to explore new destinations and work with vendors who understand the importance of Covid related safety. Equally important is working with those who understand the importance of being flexible with customers who are prevented from taking a trip due to sudden changes or ongoing border restrictions. Most of the vendors are holding prices and lowering deposit requirements, and airlines have gotten rid of most of the change fees for at least the duration of the pandemic.
That has allowed us to offer our customers several options for virtually all trips that had to be rescheduled as well as any that will need to be rescheduled in the future:
Move your payments to the new date with full price protection

Move your payments to a different trip of your choosing

Get a full refund
We want to thank all of you for being so patient and understanding during the past year. Your flexibility and confidence in us has made a difficult situation much easier. We are very excited about being able to travel with you all again very soon!
TRIPS TO GET YOU BACK IN THE WATER IN 2021!
DIVING WITH BIG ANIMALS is one of our favorite types of trips. We are excited to have some amazing expeditions this year oriented to big animal encounters.
CABO PULMO MOBULA AGGREGATION: This adventure focuses on looking for the annual mobula aggregation in the Cabo Pulmo area in the Sea of Cortez. A combination of free diving and scuba diving, this is an excellent trip for all levels of divers. Only 2 spots left on one of our favorite boats: Nautilus Gallant Lady!     MAY 31 – JUNE 5 $2695
HORNBY ISLAND: Come play with the Labrador puppies of the ocean: Stellar Sea Lions! Playing with these guys in the clear waters of Hornby Island, BC is not to be missed. Truly a blast! Combined with the other amazing critters in the Pacific Northwest and the incredible hospitality of Hornby Island Diving, we guarantee you will want to come back. NOVEMBER 2 – 9 $2499 for divers and $1499 for non-divers
MAGDALENA BAY FOR THE MEXICAN SARDINE RUN: See the striped marlin as they dart in and out of the sardines aggregating off Magdalena Bay north of Cabo San Lucas. In addition to the marlin, the sardines attract whales, dolphins, sea lions and even orcas. The action with the sardines is fast and furious so this is mostly a free diving activity. However, diving opportunities are also excellent with marine life and topography similar to the Channel Islands as well as historic shipwrecks. We will be based on the Nautilus Gallant Lady to maximize our flexibility and options. Only 12 people maximum! NOVEMBER 18 – 25 Starting at $2995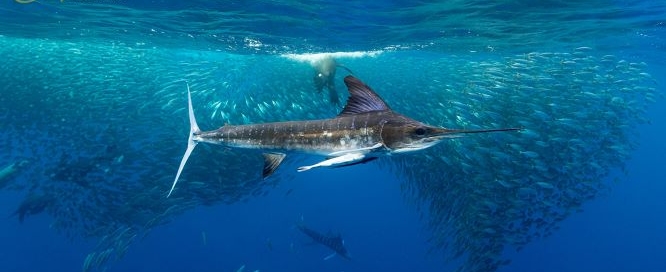 FREE DIVING WITH ORCAS IN NORWAY: This trip is for the true adventurer! Large amounts of herring gather in these northern waters and with the herring, brings the hunters. It is an extraordinary spectacle to watch hundreds of Orcas in the sea and then be among the few explorers to experience snorkeling with them. Humpback whales, fin whales and minkes are commonly seen in these waters too. NOVEMBER 19 – 26 $4200
EXPLORE MALPELO: It is the largest no fishing zone in the Eastern Tropical Pacific and is a UNESCO World Heritage Site. The deep water and various ocean currents make this the perfect place for an extraordinary shark population. Massive schools of hammerhead and silky sharks are found here along with Galapagos, white tip, whale sharks, manta and eagle rays, free-swimming moray eels, as well as the reclusive small tooth sand tiger. Due to the strong ocean currents, this is a destination for experienced divers. DECEMBER 1 – 11 $6900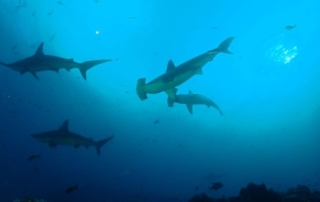 TRIPS THAT COMBINE EXPLORATION ABOVE AND BELOW WATER are another one of our favorite type of trips. That is particularly helpful when you have a diver/non-diver family or just want to see a broader spectrum of an area.
ST. LUCIA AT ANSE CHASTANET: This is a wonderful trip for divers and non-divers alike. There is great diving within minutes of the resort and even off the shore plus plenty of non-diving activities for everyone to enjoy. And of course, everyone will appreciate the relaxation among the incredible scenery of St. Lucia and the luxury resort Anse Chastanet.    MAY 8 – 15 Rooms starting at $2950/person for divers. 4 spots remaining.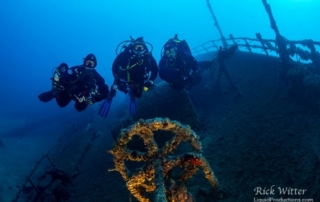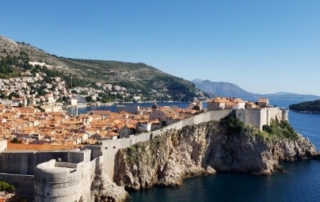 CROATIA: This is a unique land and sea adventure combining the incredible history and scenery of Croatia with great diving. We will spend 12 days on a liveaboard cruising along the Croatian coastline and focusing on the Kornati National Park and the Island of Vis which is known for its incredible wrecks and great visibility. Starting in Zadar and ending in Dubrovnik, we will explore a large section of the Croatian coastline as well as visit historic cities and scenic national parks along the way.
JUNE 19 – JULY 1 $4399/diver, non-diver rate is $2999
SEPT 25 – OCT 5 for Tech Divers Only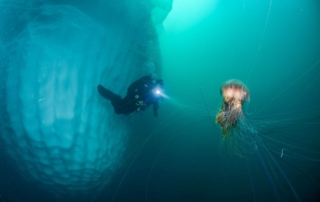 ICELAND AND GREENLAND: This unique expedition highlights the best of the Arctic. In Iceland, dive/snorkel between two continental plates in the gin clear waters of Silfra, explore geothermal lakes and rivers, and hydrothermal vents all while enjoying amazing top side scenery, Northern lights and the unique Icelandic culture. In Greenland, we will explore virgin dive sites as well as enjoy spectacular top side scenery including the largest icebergs in the world and traditional villages where people still survive on seals, musk oxen and polar bear. Divers and non-divers alike will be enthralled by the landscape above and below the water. You can book one or both parts of the trip with discount if you book both.
ICELAND: AUGUST 30 – SEPTEMBER 8 $4999
GREENLAND: SEPTEMBER 8 – 15. Cabins start at $4500/person depending on type of accommodation.
WARM WATER EXPLORATION IS ALWAYS GREAT! We are super excited about two warm water trips we have coming up to new destinations and another to an old favorite. While these countries are not yet open to travelers, we are seeing some optimistic signs they will be ready for us later this year.
EXPLORING THE ALOR ISLANDS OF INDONESIA: During your dives along this exciting new route, you can expect to see incredible underwater biodiversity. In addition, nutrient rich upwelling waters bring in pelagics: Sunfish (mola-mola), thresher sharks, hammerhead sharks, humpback whales, and even marlin and sailfish. Further, the many protected pristine reefs provide a perfect home for smaller colorful creatures and up to 1,000 species of coral reef fishes and 500 species of corals. Walls, bommies, caves and patch reef formations make for dramatic 3D underwater topography while black sand areas provide perfect habitat for muck diving and cryptic critters.      August 9 – 20 $5570
EXPLORING BRAZIL: Enjoy the best diving in Brazil while we explore its amazing history, culture and food. We will visit two areas: Recife known for its incredible shipwreck diving and maritime heritage and Fernando do Noronha which is a UNESCO World Heritage Site famous for its pristine marine environment and its abundance of life. This custom program includes all the special permits and park fees for diving as well as multiple land excursions and domestic airfare.
October 5 – 17 $5400 diver rate and $4500 non-diver rate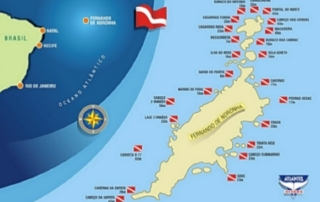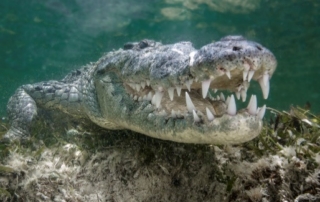 CUBA – GARDENS OF THE QUEEN: This marine protected area is the most beautiful spot in the Caribbean. Protected for over twenty years, it is a testament to the benefits of protecting our environment. With pristine reefs, lush coral and more grouper and sharks than you have ever seen in the region, there is something for everyone. And don't forget about exploring Havana!
DECEMBER 4 – 11 boat only $4399. Havana add-on DECEMBER 1 – 4 $1599.
SPOTLIGHT ON OUR NEWEST TRIP LEADER: DAN ORR
Blue Green Expeditions is proud to introduce our newest trip leader: Dan Orr. For most of you he will need no introduction thanks to his incredible contributions to the dive industry as the former Training Director and President of Divers Alert Network (DAN). He has won every award in diving and literally written the book on diver safety. Check out his detailed biography on our website! To help you get ready to start diving again, see his latest article about getting back into diving after Covid.
Here is what Dan had to say about joining our team: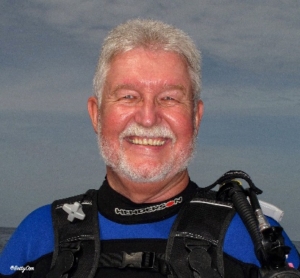 "I have known Faith Ortins for many years and have always been impressed by her enthusiasm for the sport and her educational and safety ethic. When she and Paul Holbrook formed Blue Green Expeditions, I knew that they would be able to provide diving opportunities second to none. When Betty and I had the privilege of participating in adventures with Blue Green Expeditions to the Antarctic and the Arctic, it exceeded our expectations in every way. Blue Green Expeditions provides divers with the rare opportunity to experience diving in locations all over the world that have rarely or never before seen a diver. Blue Green Expeditions has a loyal following, and Betty and I can certainly be counted among that growing number. I am proud and excited to have the opportunity to lead a Blue Green Expedition."
We are so excited he will be doing more projects with us. You will see him in Cuba this year as well as other spots! Come take a look at who we are and check out all the information on the rest of the team!
As always, thank you to the generous photographers who shared their images: Andy Deitsch, Jeff Hannigan, Betty Orr, Marty Synderman, Jim Van Gogh, Mike Williams, Rick Witter and the folks at Nautilus Liveaboards.